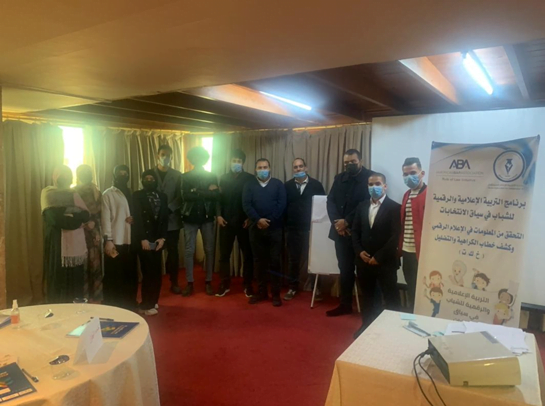 LOFIM Launches Youth Media And Digital Literacy Program During Elections With A Training Session And A Training Guide
The Libyan Organization for Independent Media (LOFIM) organized on Saturday, 5 February 2022, a training session in Youth Media and Digital Literacy (YMDL) Program in Tripoli, with the support of American Bar Association (ABA), where thirteen Libyan youth (under 25) from cities of Tripoli, Zawia, Bani-Walid, Al-Khums and Tarhuna attended the training. Two young participants also attended the session virtually via Zoom application.
The introductory session was held virtually via Zoom application in 29 Jan 2022, to introduce the objectives of the program in strengthening the capabilities of Libyan youth to debunk in verifying information and detecting hate speech and disinformation (HSD).
The session focused in providing the knowledge to Libyan youth in combating HSD. It also focused on the importance of adopting YMDL in dealing with challenges to combat HSD, and other media breaches produced by huge number of social media platforms targeting Libyan audience.
A first printed training guide for verifying information in digital media, and debunking HSD was given out to young participants to take home and to be a reliable reference for them. The guide was the first guide printed in Libya in YMDL, and it was recently prepared and printed by LOFIM with support of ABA.
One of the participants , Mr Muhammad Abu Gharara, a young graduate from Tripoli university, said "I have benefited very much from this training , and despite my previous training knowledge in debunking HSD, this session has added a lot to me, for example, I learnt new skills for verification, also new tools for research, basics of validation drafting, and some other skills."
Miss Reeham Al-Sarwi, a young high school student, who participated in the session said, "I have learnt this information and skills for the first time, I am now able to differentiate between fake news and real news, and I got acquainted with the Media Code of Conduct and how to combat hate speech. Young people are the pioneers of the future and they need to be looked after."
YMDL Program during Elections, which is implemented by LOFIM, aims at enhancing Libyan youth capacities in west, south and east Libya to adequately verify, investigate and debunk online HSD, especially related to elections, through awareness-raising sessions, and developing awareness-raising print guide on media and digital literacy, for use in the capacity building sessions as well as through outreach campaigns on separate media platforms.